2020 Alley Art Festival: Become a Sponsor!
In partner with Vangarde Arts, Downtown Partners is excited to be hosting the second annual Alley Art Festival. The event set to take place on September 26th is quickly approaching. As muralist and vendor spots are secured and planning continues, there is one important component that puts the festival together, and that's the funds to do so.
If you loved last year's Alley Art Festival and want to help support the community event filled with live art, music, and fun you can donate today. There are a couple ways you can do so. If you're interested in sponsoring the festival, you can donate at either the $500, $1,000, or $2,500 level on our sponsorship form. Donations of any amount can be made online via PayPal, or check and cash donations can be sent to Vangarde Arts at PO Box 1225, Sioux City, IA 51101.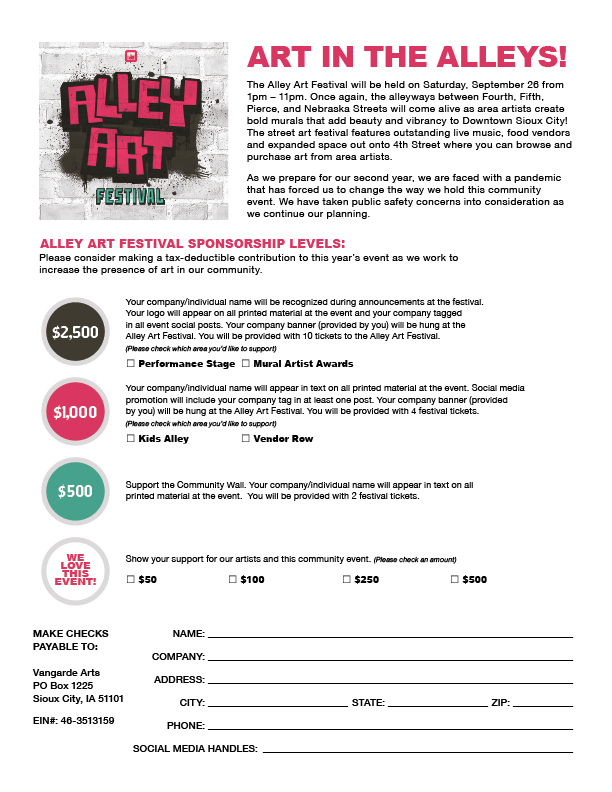 All amounts, both big and small, are appreciated and help to make this year's Alley Art Festival run smoothly and safely with all the supplies needed to do so.
Thank you in advance for partnering with us and supporting downtown Sioux City events!
To print off the sponsorship form CLICK HERE
To donate online
For more information about the Alley Art Festival, and to stay up to date on updates, follow Downtown Partners on social media and the Alley Art Festival Facebook event.

Questions about donating or the Alley Art Festival can be sent to info@downtownsiouxcity.com or by calling Brent Stockton at Vangarde Arts at 712. 251. 6432.