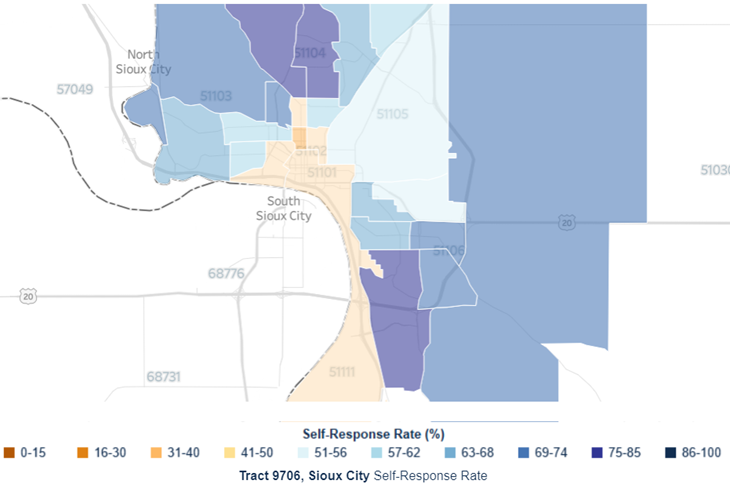 2020 Census Update: Downtown Sioux City Responses Needed
Sioux City remains at a 64% response rate for the 2020 Census. But… the downtown region of Sioux City has a lower response rate at around 31%-50% (the "yellow" and "orange" shaded areas on the map). As a community, our goal should be to have the entire city in dark blue! (86%-100% rate)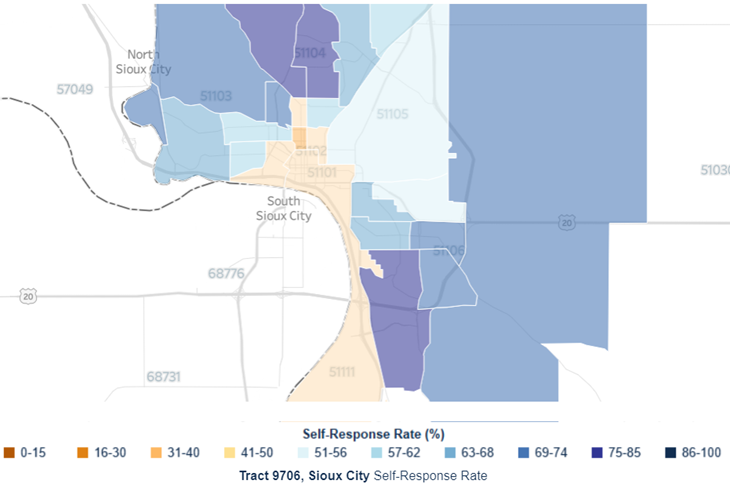 That is where we need your help. If you are a downtown resident please fill out the 2020 Census form, and encourage those you know to do so as well.
We can not express enough the importance the census results have on Sioux City. The results influence funding the city receives for things like roads, healthcare, and schools. If you would like to see Sioux City improve in these areas, it is important for you to do your part by responding to the 2020 Census.
Sioux City has a good start to our 2020 Census response, but we're not done yet. Downtown, it's your turn to continue responding and filling out the 2020 Census form. You can do so on the Census website or by calling 844-330-2020.
To view the current self-response rates for Census tracts in our community and others click here.
If you have questions about the 2020 Census, or are having difficulties filling out your response form, you can call the city at 712- 279-6340.
Sioux City thanks those who have currently responded to the 2020 Census and encourages the rest of the community, especially our downtown residents, to follow their lead.
Downtown residents, help us now in crating a vibrant, expanding downtown community by responding to the 2020 Census today.