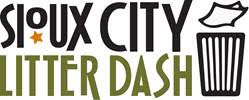 Litter Dash 2018:

Friday, April 20th
**ALL Volunteers Click Here to Submit a Liability Waiver**
What: Community Litter Cleanup
Where: Lunch is at the Long Lines Family Rec Center, Litter cleanup locations TBD
When: 4/20/18 at 12:00 p.m. (lunch) followed by litter cleanup at 1:00 p.m.
Who: Teams with 10+ volunteers (we can also place you with a group!)
Contact: litterdash@sioux-city.org or call Melissa Campbell at (712) 279-6349
The City of Sioux City invites residents, businesses, schools, and community groups to coordinate a team for the Sioux City Litter Dash, a litter cleanup, to help beautify our community and reduce the impact of litter on our environment. Working together with several city departments, these efforts will have a visible, positive impact on our community. Litter negatively impacts our environment, the aesthetic appeal of our community, and even economic development. By volunteering for this event, you send a strong anti-litter message and will receive recognition for your commitment to improve our community.
Your group will designate a team captain (the person with whom we will communicate) and form a team of at least 10 people. This team will join others at noon on Friday, April 20, for a complimentary lunch and volunteer rally at the Long Lines Family Rec Center. The team will receive collection materials including gloves and bags. Following lunch, each group will go to their assigned location.
Please email litterdash@sioux-city.org or call Melissa Campbell, City of Sioux City Environmental Analyst, at 279-6349 with any questions you may have. Only 1 registration is needed per team.
In case of inclement weather, your team captain will be notified and Litter Dash will be rescheduled to Friday, April 27, 2018.
Volunteers of all ages are welcome. All participants will be required to sign a liability waiver prior to the event; volunteers under the age of 18 will need to submit a waiver signed by a parent/guardian.
We look forward to working with the community towards a better Sioux City on April 20, 2018!