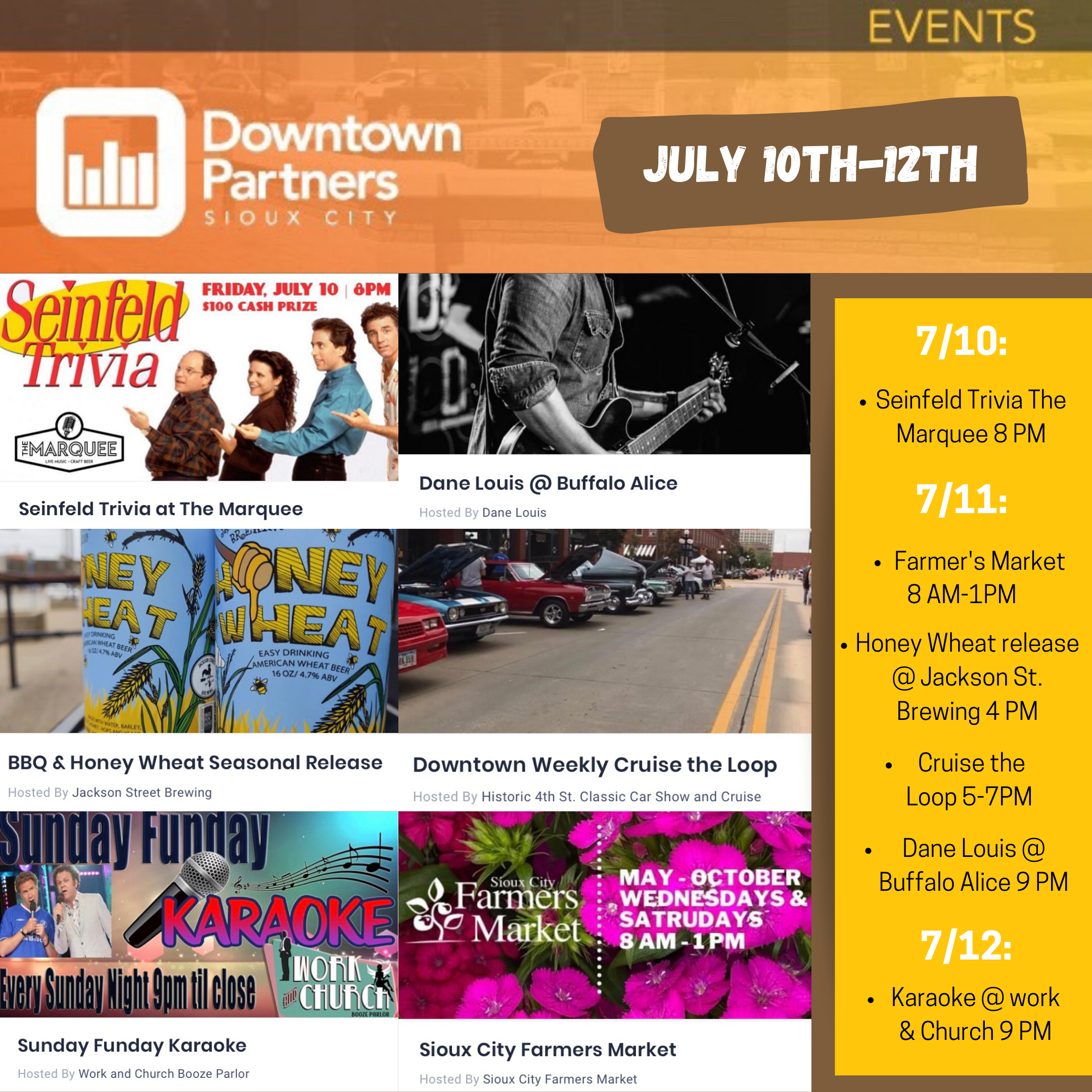 Weekend Happenings for July 10th-12th
If you're looking for something to do downtown this weekend, we have a list events just for you!
If you and your friends love Seinfeld, you'll want to head over to The Marquee for Seinfeld themed trivia night. Registration begins at 7 pm with teams of up to 6. It's free to play and $100 cash prize will be awarded to the winning team! Trivia begins at 8:00pm with the venue rearranged to promote safe social distancing.
If you haven't made it to the Sioux City's Farmers Market this year, be sure to stop by Saturday. Every Saturday and Wednesday the Farmers Market is open 8 am- 1 pm. The Farmers Market is located the corner of TriView Avenue and Pearl Street just west of the Tyson Event Center.
Another recurring Saturday event is the weekly downtown "cruise the loop." To check out Sioux City's finest old cars, stop by historic 4th street from 5-7 pm. The cruise wraps up in the Morningside area in Sioux City.
Are you thirsty? Saturday starting at 4 pm Jackson Street Brewing will have their Honey Wheat Beer Seasonal Release. There will only be one batch of the Honey Wheat: Bavarian Hefeweizen variant, so get yours while you can! Big Rene's BBQ LLC with also be serving up some delicious BBQ.
Looking for live music? Buffalo Alice has you covered. Dane Louis will be playing a few acoustic sets on Buffalo Alice's patio starting Saturday evening at 9 PM. Grab a drink, and bring a song request and head on over to Buffalo Alice's.
As always, you can finish your weekend with Sunday Funday karaoke at Work and Church Booze Parlor. The fun begins at 9 pm and goes until you stop, or close.
As always, please remember to practice safe social distancing standards anytime you're out and about enjoying downtown Sioux City.